Amid the cries of Bali starlings, sooty-headed bulbuls and crested mynas, Marlisa Wareman takes her place in a uh. The traditional longhouse of Mentawai culture stands in the middle of Taman Indonesia, which inspired Wareman to show his Dutch compatriots the cultural richness of Indonesia.
"I lived in Mentawai for over a year with my older brother Vincent, who was doing anthropological fieldwork there. Rather than joining Vincent on his return to the Netherlands, I decided to stay with his host family in the uhShe recalls, referring to the regency of the Mentawai Islands in West Sumatra.
"I have become part of this family, having my own tasks and responsibilities. Every morning I would go out in a canoe to look for bananas, learn how to make sago, and visit friends on the other side of the jungle.
Living in Mentawai for over a year fueled Wareman's passion for cultures and Indonesia. It also taught her to be creative and to think outside the box. "In Mentawai, we didn't have a lot of facilities and the infrastructure was less developed [than] it is nowadays. Sometimes we had to walk for two hours to reach our destination, "she said.
Armed with her creativity and perseverance, Wareman runs Dierenpark Taman Indonesia (Taman Indonesia Wildlife Park) in Kallenkote, the Netherlands, which she co-owns with her brother Diederik. Although the park has been closed for several months due to COVID-19 restrictions, the siblings are still determined to share stories about Indonesia with the Dutch people.
More than Bali
Taman Indonesia was originally founded as a bird park at the age of 15. Her father is an avid ornithologist, while her mother had a strong taste for Indonesian cuisine, always inviting people to come to the park and taste Indonesian dishes.
"I wasn't interested in helping my parents. After Mentawai, I went to Amsterdam and Yogyakarta to continue my studies, and I engaged in Metro TV as a journalist thereafter, "she said.
When his mother passed away in 2008, Wareman returned to the Netherlands to help Diederik and his father maintain the park, bringing his love of culture and passion for Indonesia back to Kallenkote.
"Puppet Master": Another virtual program offered by Dierenpark Taman Indonesia is "Wayang Spreekuur", or "wayang consultation hour", during which people can talk with experts about their wayang puppets. (Taman Indonesia / Courtesy Taman Indonesia)
"Speaking of Indonesia, a lot of people would directly think of Bali, or maybe Java. But Indonesia is also Nias, it is also Mentawai, and dozens of other tribes and cultures thrive far beyond Bali. We want to show our visitors the diversity of Indonesia through food, objects, music, flora, fauna and more, "explained Wareman
The park is home to some forty species of birds, several species of reptiles, including the Indonesian blue-tongued skink, and several species of mammals such as the civet and the muntjac, or barking deer.
In their mission to create the ultimate Indonesian experience, Marlisa and Diederik have also collected many iconic items for the park. The uh, a becque (bicycle), a onthe (roadster bike) with baskets and a Dji Sam Soe brand warung (kiosk), filled with bottles of kayu putih (cajeput) oil and instant sachets the jahe wangi (ginger tea), are among the items on display at Taman Indonesia to help visitors feel as if they are actually in the country.
Collective goodwill
In addition to the items the siblings collected during their travels in Indonesia, the park also receives donated Indonesian items. It also serves as a venue for people with hobbies and interests related to Indonesia, which has often led to new artefacts and exhibits. Wareman says she prefers to spend most of her time at the cash register, "where I can talk to visitors and listen to what excites them."
"So when someone told me about their passion for kris, the seed for a kris exhibit was planted," she said. Soon after, Wareman asked around and received 20 Kriss donated by collectors all over the Netherlands.
This goodwill is unique, especially since the park is located in a small, serene village in the province of Overijssel, about 120 kilometers from Amsterdam – a very remote distance for most Dutch people. With its population of around 320, Kallenkote also doesn't see a large influx of visitors from the surrounding areas.
"Many of our visitors are of mixed European and Indonesian descent. We aim to create a place where the first generations can bring their children to share stories about their family history, "said Wareman, whose mother was born in Malang, East Java. Visiting the park would thus offer future generations of Indonesian-Dutch families the opportunity to discover their cultural roots.
"My Indian grandparents passed away when I was still a child. Now I wish I could ask them [everything] on their life in the former Dutch East Indies, "she added.
The park also attracts Indonesian visitors like Eka Tanjung, who has lived in the Netherlands for over 30 years. When the pandemic struck and he was no longer able to travel to Indonesia to visit friends and relatives, Eka began to search for traces of Indonesian culture in the Netherlands. Last June, before the second lockdown, he went to Kallenkote in search of "obat rinduOr a cure for her homesickness.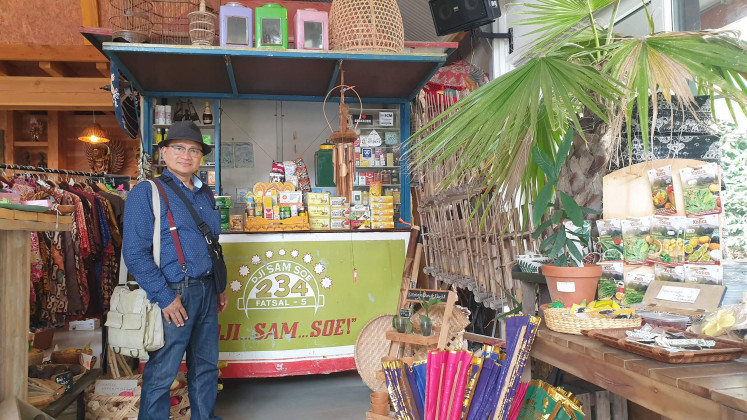 Homesickness Cure: Eka Tanjung, who has lived in the Netherlands for 30 years, stands in front of a booth on display at Dierenpark Taman Indonesia in Kallenkote, the Netherlands with the logo of Dji Sam Soe, an iconic brand of Indonesian clove cigarettes. Eka said he visited the park because he was unable to return home during the pandemic. (Personal collection / Courtesy of Eka Tanjung)
"The first time I set foot in the park greenhouse, I felt like I had returned to my childhood village in Solo," said Eka. "I saw the same trees we had in our garden and felt the temperature of the tropics making me sweat. When I closed my eyes to listen to the kutilang [sooty-headed bulbul] chirping in the park, I [imagined] myself along the banks of the Solo River. A beautiful carefree childhood.
Dutch travel blogger Anouk Ellianne Koster visited Taman in Indonesia "to get a taste of Indonesia," according to a caption on her Instagram account (@anoukelliane). The attached photograph shows Koster wearing a capping, a traditional farmer's hat, next to a wayang puppet.
"I graduated from high school in July 2020 and had planned a gap year after that to travel to Southeast Asia, including Indonesia," Koster said. But she had to postpone her travel plans due to the pandemic and instead took a trip to Ossenzijl, about 22 km from Kallenkote.
"I have never been to Indonesia before and can only compare the Indonesian details of the park with what I have read on the internet about Indonesia, but I was directly impressed by seeing the different details, such as clothing, tropical plants, reeds, statues and Indonesian animals, "she said of her visit to Taman in Indonesia.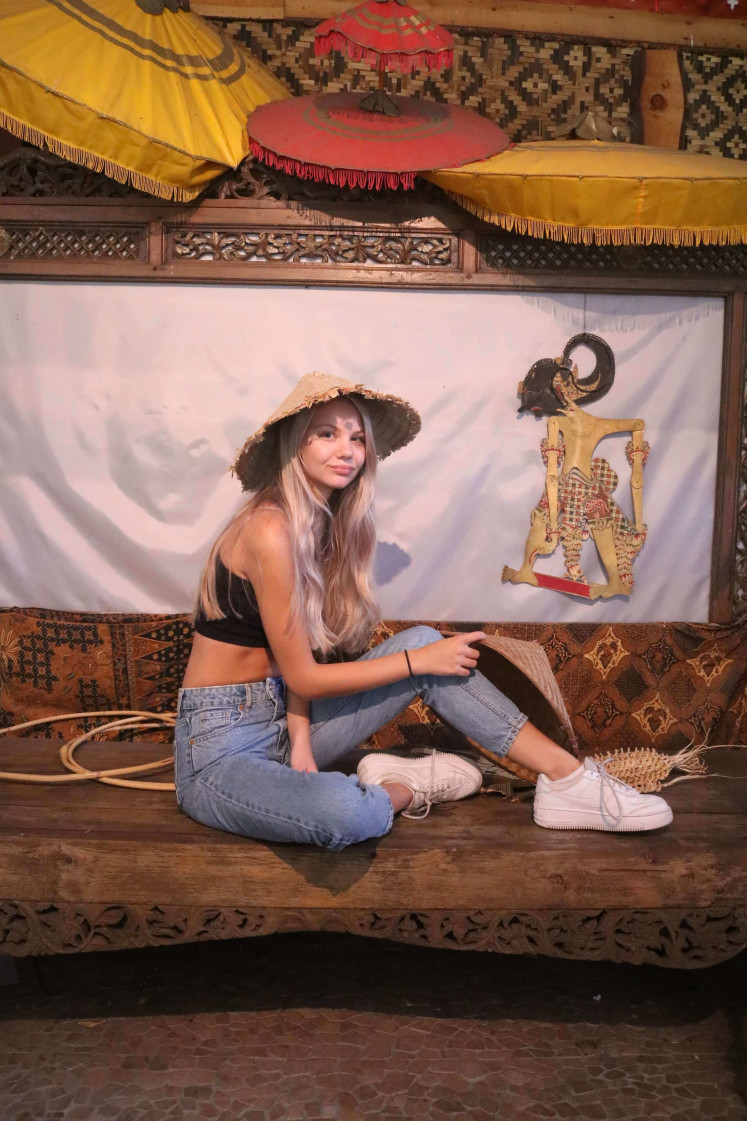 Indonesian vacation home: Travel and mental health blogger Anouk Ellianne Koster poses with a wayang exhibit at Dierenpark Taman Indonesia in Kallenkote, The Netherlands, as an alternative to her planned trip to Indonesia, which she had to cancel due to COVID-19 restrictions. (Taman Indonesia / Courtesy Anouk Ellianne.)
Koster says she is still planning to travel to Indonesia, once conditions permit.
Virtual escape
Before the pandemic, Wareman traveled to Indonesia every year during winter break in the Netherlands, when the park is closed for maintenance. But the two prolonged lockdowns imposed by the Dutch government challenged her and her brother, like many entrepreneurs, to use their creativity to do whatever they could to survive financially.
Once again, his Mentawai lessons proved to be crucial. Instead of receiving visitors to the park, she and Diederik created several programs to bring Indonesia to people's living rooms. Their latest project is "Wayang Stories," which introduces the different puppet characters through online puppet-making workshops, performances and discussions where visitors can "check out" a wayang expert on their puppet.
The sister-in-law duo have also launched a virtual cooking workshop for those interested in Indonesian cuisines.
"Our loyal visitors, members and ambassadors are essential to support and inspire us. Recently a lady who had cleaned her attic found a vinyl with songs by Indonesian-born Dutch singer Wieteke van Dort, "Wareman said. The woman was no longer listening to the record, so she gave it to the park.
"So the idea began to organize an online auction for items related to Indonesia. Profits go to the animals and the upkeep of the park, "said Wareman. Besides vinyl, other items donated to the Taman Indonesia auction include an autographed t-shirt of former Persib football player Sergio van Dijk and woodcarvings from Bali.
Until the park gets the green light to reopen, Wareman unleashes the adaptive creativity she learned from the Mentawai people, so she can continue to inspire people with Indonesia's many stories through to online programs.
Eka is confident that other Indonesians living in the Netherlands will also visit the park online.
"Because the memories we left in Indonesia, we can find them and feel them again in Taman Indonesia, in particular [at a time] when we have difficulty getting to Indonesia due to the pandemic, "he said.